– I always wanted to visit the Haunted Mansion during Halloween, It just never worked out, but check out the amazing things the do with the Nightmare Before Christmas change over for the ride!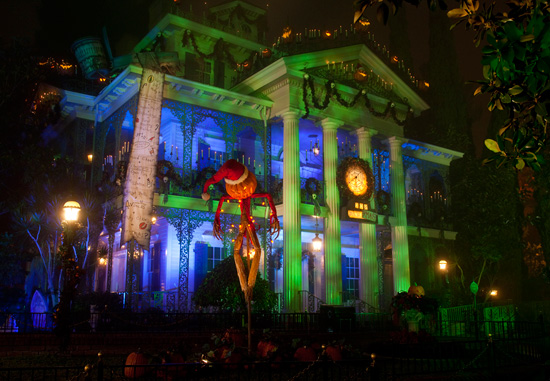 Things You Might Not Know About Haunted Mansion Holiday at Disneyland Park
posted on September 13th, 2011 by Erin Glover, Manager, Social Media and Print
With Halloween Time coming up at the Disneyland Resort, spooky preparations are taking place all around Disneyland park. A guest favorite each year is Haunted Mansion Holiday. Soon Jack Skellington and co. will take over the Haunted Mansion, complete with a new Gingerbread House. As we get ready for the opening of Haunted Mansion Holiday, here are some fun facts you might not know:
More than 400 flickering candles and 100 Jack-O-Lanterns create a ghostly glow on the façade of the Haunted Mansion.
Jack's faithful dog Zero gathered more than 200 bones to use as décor, garland, and presents.
More than two dozen additional animated figures "materialize" inside the Haunted Mansion during Haunted Mansion Holiday.
Imagineer Kim Irvine, daughter of the original Madame Leota, makes a special spirited performance as the Haunted Mansion's favorite psychic during Haunted Mansion Holiday. Leota Toombs, Disney Legend and long-time Imagineer, gave life to the head that for decades has floated inside the Haunted Mansion's Crystal Ball in the Séance Room.
Every year, a new ghoulish concept is created and Resort Foods bakes up a brand new Gingerbread House for the celebration scene in the Mansion's Grand Hall.
via Things You Might Not Know About Haunted Mansion Holiday at Disneyland Park « Disney Parks Blog.