Harry Potter and the Half-Blood Prince is spellbinding, even though it is more grounded in reality and less fanciful than previous installments.
David Yates has grown more assured in his direction since his last film, Harry Potter and the Order of the Phoenix. In this sixth film in the series, the cinematography is stunning, and the story unfolds in a stately and unhurried fashion.
Captivating from the first frame, this Potter feels more epic than previous films, which had a less mature, more madcap quality. Yates finds an artful way to meld the teenage romance and inherent humor with a sense of impending doom.
Half-Blood Prince conveys some of the rich texture and depth of J.K. Rowling's book, but it takes a lackluster turn at the end. In a key scene, Harry is rendered more ineffectual than his literary counterpart as a result of plot revisions.
Presumably Yates decided on a less-is-more finale by underplaying the book's climactic tragedy, perhaps because readers already had been rocked by the event. Though this makes sense, it leaves the die-hard fan with a sense of anticlimax.
Yates clearly has a vision for the films, and he has sharpened it with this incarnation. The somber mood suits the story's dark tone. We see less random magic and more mature reflection, which is rare for a fantasy. The entire film is shot through with a sense of gravity and portent.
The wizards are now 16, in their penultimate year at Hogwarts School of Witchcraft and Wizardry. Though he is seen only through others' memories, Lord Voldemort's ominous presence is distinctly felt. He has assembled a cadre of malevolent henchmen, who menace the wizarding and Muggle (non-magical) worlds.
Hogwarts is no longer the refuge it had been for Harry (Daniel Radcliffe) and his pals, Ron (Rupert Grint) and Hermione (Emma Watson). Meanwhile, the surly Draco Malfoy (Tom Felton) is skulking off in the school's cavernous corridors, struggling with a terrible mission.
Harry works with Hogwarts headmaster Albus Dumbledore (Michael Gambon) to thwart Voldemort and the encroachment of his evil dominion. Dumbledore assigns his protégé to cozy up to Professor Slughorn (Jim Broadbent) and access a key memory to aid in his fight.
Though Half-Blood Prince is one of the series's best, with spectacular effects, nuanced performances and witty dialogue, its dialed-down adaptation of Rowling's conclusion ends what might have been a masterful work with a measure of disappointment.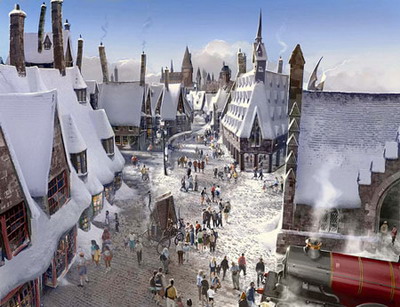 Harry Potter Theme Park Planned for Universal Orlando
By Nick Allen and Cecile Daurat
May 31 (Bloomberg) — The Universal Orlando Resort will open a theme park based on the Harry Potter novels that have captivated more than 325 million readers around the world.
The park, called the Wizarding World of Harry Potter, will open in 2009 and feature rides and attractions based on the books that follow the adventures of the boy wizard, Universal Parks and Resorts said today in a statement. Fans will be able to stroll through the village of Hogsmeade and Hogwarts castle.
Universal and Warner Bros., the Time Warner Inc. studio that produces Harry Potter movies, aim to capitalize on the success of the novels that have made author J.K. Rowling a billionaire. The seventh and final book, "Harry Potter and the Deathly Hallows," will be published on July 21. The fifth movie, "Harry Potter and the Order of the Phoenix," will be released by Warner Bros. the same month.
Wizarding World will cover about 20 acres and will be built within Universal's Islands of Adventure park in Orlando, said Thomas Williams, chief executive officer of Universal Parks, part of General Electric Co.'s NBC Universal unit.
The park "is authentic in every detail and is the next step up from the movies," Williams said.
Translated into 65 Languages
Harry Potter books, published by Scholastic Corp. in the U.S., have been translated into 65 languages and sold more than 325 million copies worldwide, lifting earnings at London-based Bloomsbury Publishing Plc, its U.K. publisher, and at Scholastic. The first book in the series, called "Harry Potter and the Sorcerer's Stone" in the U.S., was published in 1997.
"The plans I've seen look incredibly exciting, and I don't think fans of the books or films will be disappointed," Harry Potter author J.K. Rowling said in the statement. When she began writing the Potter books, Rowling sometimes worked on them in coffee shops in Scotland.
Scholastic plans to print 12 million copies of "Deathly Hallows, surpassing the record set by the sixth book in the series, "Harry Potter and the Half-Blood Prince."
The first four Harry Potter films, all produced by Warner Bros., have grossed more than $3.5 billion at the box office worldwide. Earnings at Time Warner's film unit will rise "sharply" in the second half, partly thanks to the new Harry Potter movie, Time Warner Chief Executive Officer Richard Parsons said earlier this month.