Google Search: Sony W1 Reviews
I GOT IT!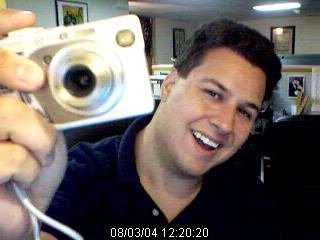 I was looking awhile for a camera I can take with me everywhere! Don't get me wrong, I love my other babies, but I was ready to take the next step to the latest Sony Digital Camera! After extensive research and also forgetting my lil water proof camera at the All Star game, I came across the Sony DSC-W1! I was on the fence in the past to get the Cannon Elph or another Sony camera, but this solved my problem! It really does look like and Elph and is comparable in size.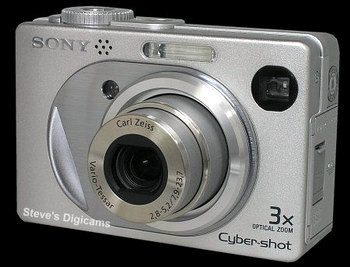 The new W1 has a bad ass HUGE 2.5 inch screen which I LOVED on my CD based Mavica cameras, you just can't beat it! Also love the key Carl Zeiss Lens on it, a 3X zoom is pretty good for what I need! It also takes AA batteries, so in a pinch you can get the batteries anywhere! The rechargeable Sony batteries are only like 9 bucks a pair, so you can't go wrong with them as well! The usage time on them is around 2 hours, so I was happy with the battery life! It also has an eyepiece and it is extremely SUPER FAST! From turning on the camera to the actual first shot was less than 2 seconds! IT WAS AWESOME! I was also shocked that it did amazing video, 30 fps movie mode! I got the 512 Memory Stick Pro and it can hold up to around 20 mins of good video! I am looking forward to doing some streaming video pieces on it and adding it right to my website!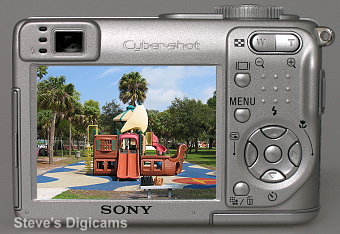 I am sure I will find some flaws with it, like red eye you always get with small cameras and the tiny flash! I also wanted BLACK 🙁 but I just couldn't wait! I can't wait to get to Italy and use this new awesome cam! I HIGHLY RECOMMEND IT!
More Reviews
Steves Digicams – Sony Cyber-Shot DSC-W1 – User Review
DCRP Review: Sony Cyber-shot DSC-W1
UPDATE : MY CAMERA CHEAPER THAN WHAT I PAID @ DELL 🙂 – Sony DSC-W1 5.1Mpixel 3x optical zoom $402.95 – auto 10% off – $35 coupon = $328 shipped free. Pass $450