Huge sightseeing day. We headed out around 10:30 to downtown Rome. We took the Metro in and it took around an hour. I was pretty impressed with their subway system, although I had that song "Metro Train" in my head all day from the group Berlin. Today's tour guide is Giuseppe. One of the brothers with his family. He is a great funny guy. Also Rosanna and Ilaria came along to show us Rome.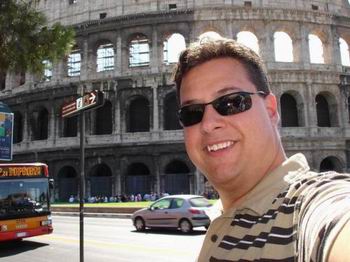 Our final stop on the Metro was The Coliseum, which was our first stop on today's adventure.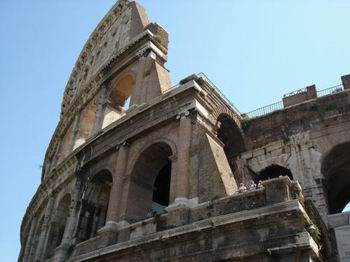 Coming out of the subway, there it was, as huge as I always expected it to be. Of course I got some real good shots of it. Unfortunately it was extremely packed although we did attempt to go in and just look around real quick. I am hoping to come back another day to go inside.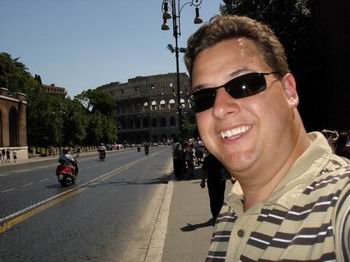 We headed down the main street and saw the fields of old ruins what was left of old Roman times, the Roman Forum.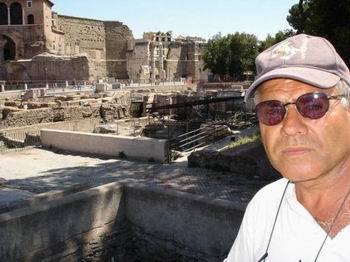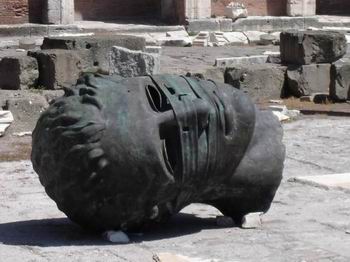 We bought a book that overlaid what is left of today's ruins with what existed today. Seeing it live and also seeing the book, definitely puts you back in those Roman times.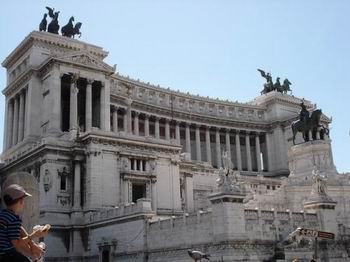 At the top of the main street we visited the Vitorio Emanuele Monument, built in the late 1800s to honor the first king of Italy. This massive structure now holds the Italian Military museum and was very impressive that seems to be just opened real recently. Outside in the center of this massive structure held the tomb of the unknown soldier. In our books there is not a lot of info on it and the Romans generally do not like the structure because it does not fit in. I think it was pretty cool and the museum was well done.
We then headed for lunch at were else, McDonalds hehe.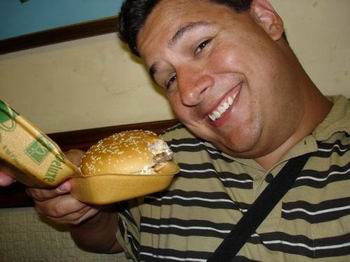 I know you thinking we are nuts but you have to remember 1/2 our group was teenagers and I have not had a hamburger in almost 2 weeks.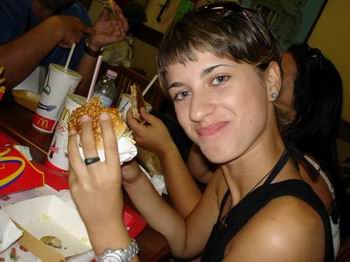 Like in Pulp Fiction the quarter pound burgers are really called Grand Royal with cheese, so I had one of those.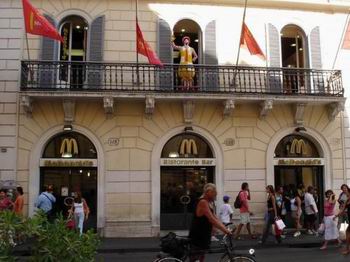 The McDonalds was really big and had a coffee / pastry section up front. They also had like a flattened like ham and cheese sandwich and a latte shake, pretty interesting.
We headed out and went past the equivalent of the Roman White House and the Parliament. At the end of the street was the Pantheon, again another site I had in my head was Rome.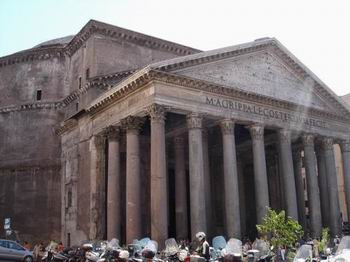 Along with the Coliseum, this one of the only remains still standing. Its gone through hell and it looks it! The sides of the building looked burned out.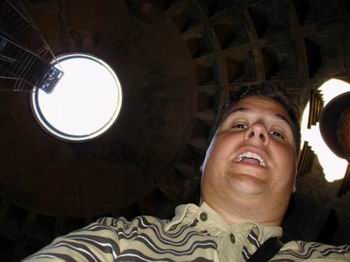 Inside it has an dome with an opened 22 foot hole that allows light from this 142 foot high dome, that had scaffolding inside and is being restored. It was truly an amazing site inside.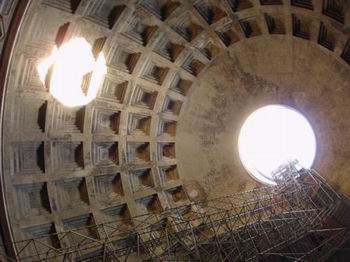 Pino took a great shot of the light coming in so I went back and got the shot, very stunning.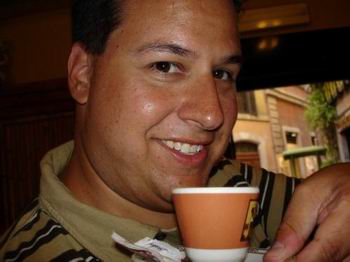 A Lil Break!
We then headed to the Trevi Fountain.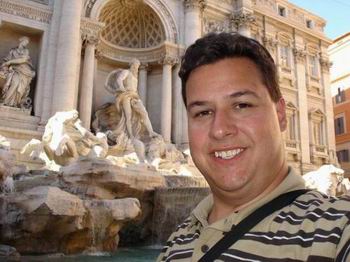 I love fountains and statutes, so I was really looking forward to seeing this and it did not disappoint.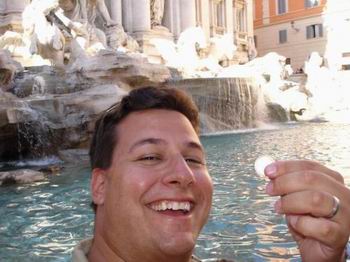 I threw my traditional coin in the fountain to ensure my return to Rome. I have heard and seen this fountain forever and it has always been a dream of mine to visit it. I even bought a book at a garage sale when I was a kid, for La Dolce Vita having that famous picture of Anita Ekberg in this awesome fountain. It was a truly amazing site.
As the day came to an end, we arrived at the Spanish steps.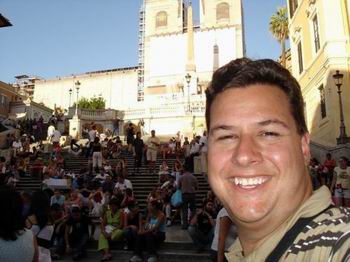 At the foot of the stairs was another fountain.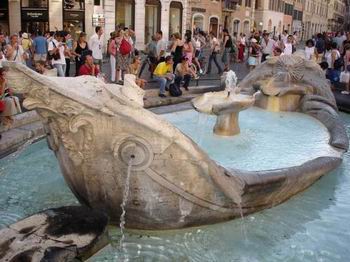 This was a fountain of a sinking boat, it was small but cute. The metro stop was nearby, so we headed out back to our tour guide Giuseppe's house for dinner.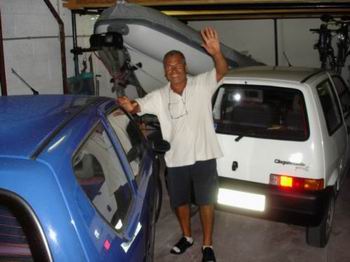 2 cars and a boat in his garage!
Very nice house with a great dinner. So far this was the best day of the vacation.