Welcome to my adventures from Italy. I will be doing my Blog during various points of my vacation. We will be in Sicily for 10 days and Rome for 5.
I knew I was in trouble when the shuttle bus was late to go to the airport. Good thing the it was only 20 minutes away. As soon as we got to there, we found out the flight was delayed. A women in line said her friend the night before was delayed from her 7pm flight until 1am! I was hoping we did not have the same fate.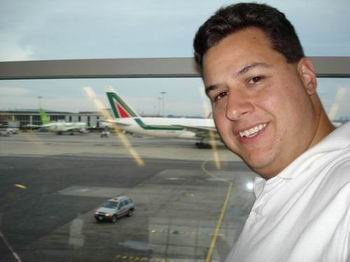 As I looked around, I kept thinking of Tom Hanks in the movie "The Terminal". They really did capture JFK really well. Unfortunately, that lady did jinx us and we were delayed until midnight ! It went from seeing the Hanks environment, to living it. My fellow passengers did not take the delay well. During our wait I walked over to the runway around 10ish to see a dozen or so fire trucks coming back to what appeared to be a false alarm! It wound up we were waiting for a "part" for the plane from Newark Airport and we were off. We think the "phalange" was broken, but we will never know. People started yelling at the people who worked for the airline. They even brought out drinks and food for everyone. Come on people, its not the end of the world. We got on our flight like 12:30.
We just flew over France as I type this update and we are almost there! The plane was huge. Although I did sleep most of the trip, I did enjoy the personal TV screen that lets you choose your movie and play video games. Lets hope we get our rescheduled second flight from Rome to Palermo. Landed in Rome around 2:30.
Found a free WI-fi hotspot so I posted my first post! The hotspot was really cool and wish they had areas like that in the US. I was gonna pay, but I got a 24 access card. I got to talk to a few buds and check my email.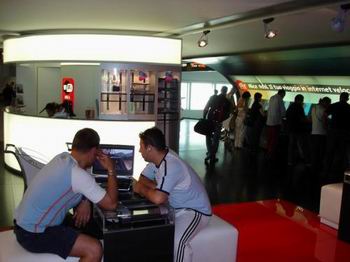 It is awesome here. Getting off the plane a lot of Josephine's family were there and brought roses for Josephine and Margherita and a single rose for Pino and I. My mother in law (mamma) had been here for a month all ready so it was good to see her. I was instantly spoiled and proclaimed that every time I get off a plane I will need that treatment. We picked up our Mercedes, NICE and headed out to the hotel.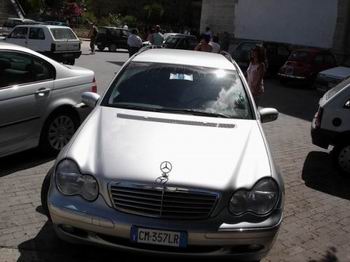 Our adventure has lasted 24 hours so far, but we had plenty of rest on the plane, so we were holding up pretty well.
We rested for a little while had dinner and went off to meet all the relatives. They were all nice. Mom had planned a gathering so we could meet everyone.