vhnd.net – VH News Desk – Great New Photos!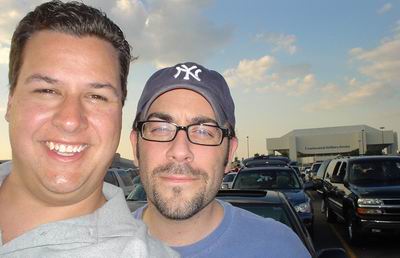 Self Portrait Photo By Rob Fuzesi

What can I say! Van Halen and Sammy for that matter are BACK! I had a great time going with my long time, since birth pal Mike Gilligan! Mike first introduced me to Van Halen in the 8th grade with the album Diver Down and then 1984. I fell in love with the band and they have been one of my favorite bands ever since. It was also Mike, who I went with, 18 Years ago in 1986 (god i am getting old!) to my first REAL concert, at the very same location at the Meadowlands. We saw Van Halen on the 5150 tour! It was an amazing night! Since then, I have seen the band many times as well as seeing David Lee Roth over the years. Well its been 8 years since VH have toured and I really had missed them!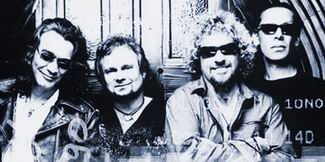 Knowing all this, you can see I was VERY excited to see the band again. I went into the show asking not to know anything at all. The show turned out to be really good and it was great seeing the band again! Sure I was kind of disappointed that, hey they haven't done anything with Sammy in 8 years and what the hell, its the same show i saw 8 years ago, with the exception of two new songs! Lots of songs were missing and I wished this reunion tour was not so rushed and they did some more classic Roth era songs as well as some classic Sammy songs!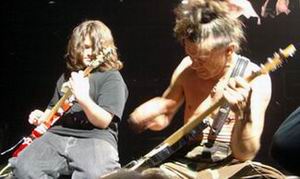 Cool Shot Of Eddie And Wolfgang From LA Rehersal Show
That aside, it was really good seeing the band back together! I look very forward to seeing what the future will hold with VH! A few highlights of the evening was seeing Eddie's son come out and jam with Eddie during his guitar solo! The kid is talented and hey, he has the best guitar teacher EVER 🙂 Eddie's solo was awesome! It is great seeing a living legend "Guitar God" perform again on live on stage! Sammy mentioned Chris Rock was in the house! A few songs later, I saw him by the sound board enjoying the show! Later Sammy came closer above the audience and said HEY CHRIS! His cover was blown! Another highlight was seeing all those VH fans in one location! Seeing all the classic VH shirts was GREAT! I found it funny, my fellow VH brothers brought their 8-12 year old sons to the shows, wearing the same shirts I wore in my youth 🙂 All in all it was a great night and a great time spending it with Gilligan, Jay Tames And Al Roth 🙂 all my high school buds! Thanks for the tickets Chris Lee who could not make it 🙁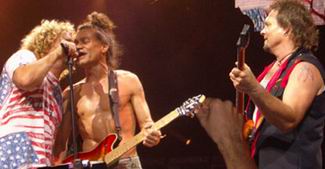 Cool Shot From Philly The Other Night
Van Halen – Meadowlands – 6/23/04 – Set List – 120 mins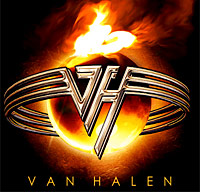 01. You Really Got Me
02. Runaround
03. Humans Being
04. Up For Breakfast (New Song)
05. Mikey's Solo (with the JD bass)
06. Somebody Get Me A Doctor (with Mike on lead vocals)
07. Poundcake
08. It's About Time (New Song)
09. Al's Solo
10. Top Of The World
11. Unchained
12. Why Can't This Be Love?
13. Eagles Fly
14. Seventh Seal
15. Best Of Both Worlds
16. Eddie's Solo (With his Son Wolfgang joining in)
17. Dreams
18. Ain't Talkin' 'Bout Love
19. Right Now
Encore:
20. Jump
21. Panama
22. When It's Love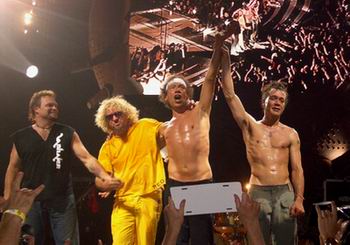 Great Shot From Opening Night