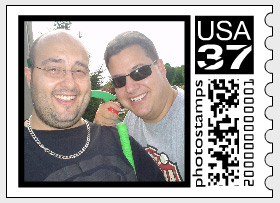 My Brother In Law Pino and Rob Stamp!
HOW COOL IS THIS! Check out what you can do at stamps.com ! I can see the problems with it now, but hey this site is awesome! Enjoy! Yeah lets see you but a 32 person self portrait on a STAMP! now there is a challenge!
You no longer have to be a dead president to make it onto a US postage stamp. Your picture or even your dog can now be on an official stamp. A new service called Photostamps on stamps-dot-com allows users to create stamps with their own photos. Company president Ken McBride says you can use a picture of just about anything or anyone — within reason. He says they'll reject offensive photos or graphics. He says they're seeing a lot of baby and vacation pictures. McBride anticipates the service will be popular for holiday cards and invitations. A sheet of first class photo stamps costs about 17 dollars — or about twice the usual 37-cent stamp.