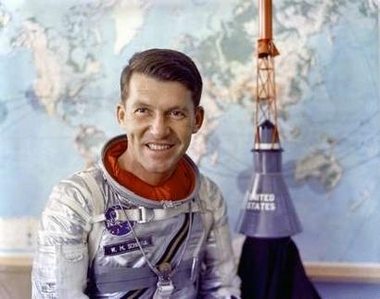 As a kid, I went to Walter Schirra Elementary school. All the schools around my town were named after Astronauts. Walter Schirra had came to the school and I got to meet him. As much as I can remember, he was a good man. Sorry to see him go.
Astronaut was credited with many firsts in space
SAN DIEGO (AP) – (05/03/07)–Walter M. Schirra Jr., one of the original Mercury Seven astronauts and the only man to fly on NASA's Mercury, Gemini and Apollo programs, died Thursday. He was 84.
Schirra died of a heart attack at Scripps Green Hospital in La Jolla, said Ruth Chandler Varonfakis, a family friend and spokeswoman for the San Diego Aerospace Museum. NASA had said he died late Wednesday but the family and the medical examiner's office both said it was Thursday.
Wally, as he liked to be called, took his first flight with his father at age 13 and already knew how to fly when he left home for the U.S. Naval Academy in Annapolis, Md.
After graduation in 1945, Schirra served in the Seventh Fleet and flew 90 combat missions during the Korean War. He was credited with shooting down one Soviet MiG-15 and possibly a second. He received the Distinguished Flying Cross and two Air Medals.
Schirra was inducted into the Naval Aviation Hall of Honor in 2000.
Survivors include his wife, Josephine, daughter Suzanne and son Walter Schirra III.