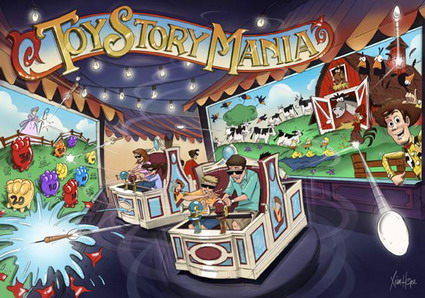 As I plan my latest trip BACK to Disney! (Hey its been a few years, give me a break) I came across this new AMAZING ride Disney is building called Toy Story Mania!!! I think it is ALREADY my new favorite ride!!! Check it out!
Toy Story Mania concept description :
The new attraction will be placed in the former "Who Wants to be a Millionaire" soundstage along Mickey Avenue at the Disney MGM- Studios.
Currently under construction, with an opening date of 2008.
A next generation "Living Character" audio-animatronics figure will be included as part of the pre-show queue area. The 6ft tall Mr Potato head figure will break new ground for an audio-animatronics figure by participating with the audience (similar to Turtle Talk with Crush), and will have the ability to remove body parts (just like the animated Mr Potato Head).
Each ride vehicle will accommodate 8 guests, with seating in 4 groups of 2.
Instead of physical sets, the majority of the environment will be a video display system, making use of 3D technologies.
The ride vehicles will begin by stopping at a training game, to familiarise the riders with the controls. The vehicles will then pass through a number of games, stopping at each to allow for the game play to take place.
The games are able to automatically adjust the difficulty level to suit the player. This means that beginners and expert players can find the game play rewarding and challenging.
The game play will vary with every ride, and it also has the ability to constantly change. Imagineering are not planning to leave the same games in place for the duration of the attractions lifespan. This should really add to the re-ride-ability.
During the games, the riders will be experiencing 3D imagery, wind effects, vehicle motion, water spray, and smells.
Each rider has their own toy canon. One of the unique features however, is that the canon will not be limited to being just a regular canon, as it is in Buzz Lightyear Space Ranger Spin by being a laser blaster. In some games it will fire pies, and in another it will be eggs and balls, and in another, a ring tosser.
Games include midway style ring-toss, dart throwing, ball throwing. Each game booth will be manned by a Toy Story character, including Woody, Buzz Lightyear, Hamm, Bo Peep and the Little Green Men.
The real emphasis on this attraction is taking the hugely successful Buzz Lightyear to the next level, and making an attraction that has huge re-ride capability. You are going to want to ride this over and over again, and the way the attraction can increase difficulty on an individual rider basis, and change game play, will really make this happen.