– My dream of owning one of these stand alone arcade units may someday become a reality but it would be 1/5 the size 🙁  Someones gotta make a table version of these, like the old sit down Mrs Pacman and Donkey Kong!
Taito is making its own iPad arcade cabinet
by Chris RawsonSep 14th 2011 at 9:00PM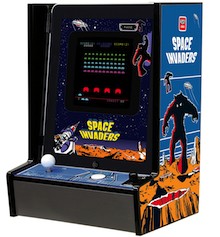 First ThinkGeek's iCade went from joke concept to real product, then Atari introduced its own iPad gaming controller. Now Taito, maker of legendary video game Space Invaders, is joining the fray with the InvaderCade. GameSetWatch reports the cabinet has only a single button and a ball-top joystick for controls, but the InvaderCade also serves as a charging dock with stereo speakers and a headphone jack.
via Taito is making its own iPad arcade cabinet | TUAW – The Unofficial Apple Weblog.