Sony's SMP-N200 player set to take on Roku, Apple TV for $99 next month
By Richard Lawler posted Sep 18th 2011 9:22PM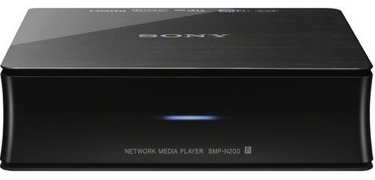 The successor to Sony's underappreciated Netbox was introduced at IFA recently, and now the company has revealed pricing for the SMP-N200 in the United States. It'll be on sale for $99 in October, and updates the old box with support for 3D, live streaming content and other unspecified new features. The original featured then-impressive support for local media playback and streaming, but does the Blu-ray-less wonder does it have what it takes in 2011? If it has a UI refresh and access to comparable sources thanks to Sony's now streamlined Video Unlimited / Music Unlimited media approach then this could play well as a one-two punch with a connected PC, phone or tablet. We'll find out next month, check out the details after the break or our hands on pics from CEDIA here.
http://www.engadget.com/2011/09/18/sonys-smp-n200-player-set-to-take-on-roku-apple-tv-for-99-nex/