John Lasseter and his merry band of animators have a way with blockbusters. The master storyteller explains how he does it – and how he plans to sprinkle some of that Pixar dust at Disney.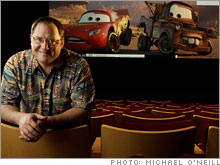 NEW YORK (FORTUNE) – Here's the scene: It's 3 P.M., Wednesday, Jan. 25, in Sound Stage 7 on the studio lot of Walt Disney Co. in Burbank. Five hundred cartoon people – artists, producers, voice artists, etc. – are jammed into the warehouse-like building, murmuring and fidgeting in anticipation.
Just yesterday, Disney (Research) CEO Bob Iger and Pixar chairman Steve Jobs announced a surprise $7.4 billion deal in which Pixar Animation Studios, which brought the world the Toy Story movies, "Finding Nemo" and "The Incredibles," would become a wholly-owned part of Disney.
The deal is surprising because Pixar's longtime distribution pact with Disney fell apart in acrimony and is due to expire after the release in June of "Cars," a kaleidoscopic celebration of racing, Route 66, and life in the slow lane. But in an amazing plot twist, not only is Pixar becoming part of Disney, but the upstart studio is also taking over the creative direction of Disney's own flailing animation operations – the people in this very room! For Iger, the deal is a bet-the-house gamble to save Disney animation from creative oblivion. It's as if Nemo swallowed the whale.
When Dick Cook, the chairman of Walt Disney Studios, introduces Pixar's John Lasseter, the man who will soon be their boss, the crowd bursts into cheers and applause that goes on and on. The 49-year-old Lasseter is dressed in his trademark blue jeans, sneakers, and cacophonous Hawaiian-print shirt, and all he can do is blush and beam. "It was almost like a homecoming," recalls Cook, who first met Lasseter when the two had summer jobs as ride operators at Disneyland in the late 1970s.
For Lasseter, who once got fired by Disney, it was sweet vindication. And it marked another amazing chapter in his storybook life, which resembles nothing so much as a Pixar plot line: Protagonist follows his heart, perseveres, gets the happy ending. His peers will tell you Lasseter's an animation genius up there with Walt Disney himself. Here, the master storyteller tells his own tale.