With Halloween Time coming up at the Disneyland Resort, spooky preparations are taking place all aroundDisneyland park. A guest favorite each year is Haunted Mansion Holiday. Soon Jack Skellington and co. will take over the Haunted Mansion, complete with a new Gingerbread House. As we get ready for the opening of Haunted Mansion Holiday, here are some fun facts you might not know:
More than 400 flickering candles and 100 Jack-O-Lanterns create a ghostly glow on the façade of the Haunted Mansion.
Jack's faithful dog Zero gathered more than 200 bones to use as décor, garland, and presents.
More than two dozen additional animated figures "materialize" inside the Haunted Mansion during Haunted Mansion Holiday.
Imagineer Kim Irvine, daughter of the original Madame Leota, makes a special spirited performance as the Haunted Mansion's favorite psychic during Haunted Mansion Holiday. Leota Toombs, Disney Legend and long-time Imagineer, gave life to the head that for decades has floated inside the Haunted Mansion's Crystal Ball in the Séance Room.
Every year, a new ghoulish concept is created and Resort Foods bakes up a brand new Gingerbread House for the celebration scene in the Mansion's Grand Hall.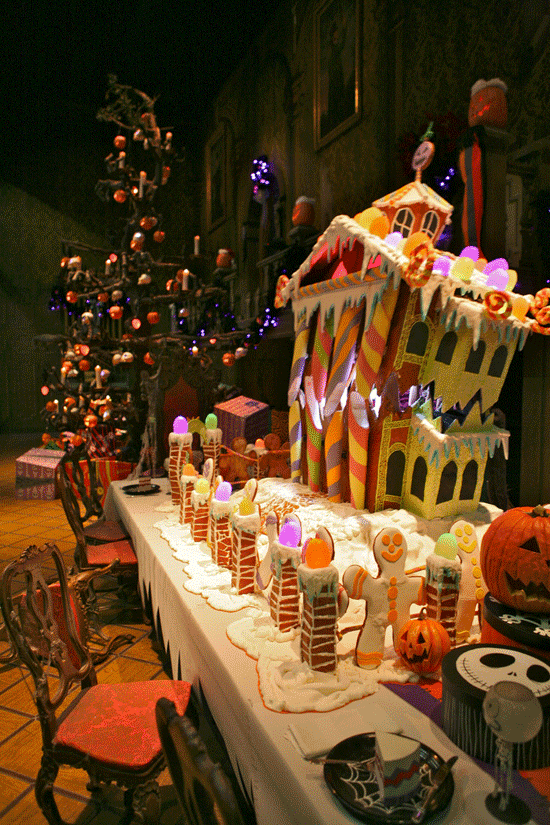 The six-foot-tall house is on display through Christmas, thus the "Jack Skellington Meets Santa Claus" theme. The holiday-themed Haunted Mansion Holiday opened Friday, so take a ride through and let us know what you think!
This year marks the tenth anniversary of Haunted Mansion Holiday at Disneyland park, but there was one celebration you might not have known about. Each year, some very different teams from across Disneyland Resort gather for a very special project: the Haunted Mansion Holiday gingerbread house. Cast members from teams like Operations, Engineering, Creative Development and Food and Beverage all work together to bring this spooky but tasty creation to life. In this video, we learn how they do it and what they do to mark their special reunion each year.