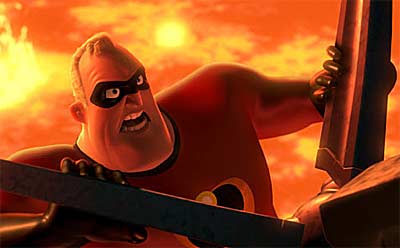 Man, I read the news yesterday and I think I am still shocked! I guess it is pretty cool. I instantly saw people shouting out that Pixar movies are gonna now suck! Only time will tell! Here is the news:
Disney eats Pixar – BREAKING NEWS – Cinematical: "Disney eats Pixar – BREAKING NEWS
Posted Jan 24th 2006 7:15PM by Karina Longworth
Filed under: Animation, Deals, Disney
Various outlets are reporting that Disney has confirmed that it will buy Pixar. As part of the deal, Disney will shell out the nice round number of $9.85 billion to hand over control of their existing animation division to Pixar's Ed Catmull and John Lasseter. In addition to taking over Disney Animation, Lasseter will also become the principal creative director of the Imagineering group ? which presumably means we can look forward to The Incredibles House at Disneyland sometime in 2012. Apple/Pixar mastermind Steve Jobs, who owns 50 percent of Pixar shares, will take a stake in Disney worth about $3.7 billion. He'll also join the Disney board.
Though the deal is not exactly a surprise, it still qualifies as another bold move from new Disney chairman Robert Iger, who will seemingly stop at nothing to distance himself from his ousted predecessor, new CNBC personality Michael Eisner. Disney stock rose a whopping 1 cent this afternoon after the announcement."
Disney pulls in Pixar
7.4B deal makes Steve Jobs top shareholder
BY PHYLLIS FURMAN – DAILY NEWS BUSINESS WRITER
Disney is looking to turn its takeover of animation film studio Pixar, whose big hits include 'Toy Story,' into a box office bonanza while looking to Steve Jobs for boost in digital dealings.
Disney's pulled off an "Incredible" deal.
"The Lion King" and "Nemo" will be under one roof now following Disney's $7.4 billion all-stock deal to acquire animation powerhouse Pixar.
Pixar chief Steve Jobs, will become Disney's biggest individual shareholder and will get a seat on the company's board. The Apple Computer chief who sparked a revolution in media and entertainment with the iPod, is expected to use his muscle to pump up Disney as it continues to explore digital deals.
John Lasseter, the creative force behind Pixar's hit-making machine, has been named chief creative officer of the Disney Pixar animation studios. Pixar's president, Ed Catmull, was named president of the cartoon-making studio.
By acquiring Pixar, Disney chief Bob Iger is looking to vault Disney from animation laggard to box office champ. While Disney long ago forfeited its animation crown thanks to bombs like "Treasure Planet," Pixar has ruled for more than a decade with computer animated megahits like "Toy Story," "The Incredibles," and "Finding Nemo."
A current co-production and distribution deal between the two was set to expire this summer after the release of "Cars," and Jobs was threatening to walk.
"Nothing has created as much value (for Disney) as great animation," Iger told analysts in conference call yesterday. "Pixar has created some of the most memorable, high-quality films of this genre."
Jobs praised Disney's distribution assets, including its theme parks. "This looked to be the most exciting path to Pixar's future," he said on the call.
Disney will issue 2.3 Disney shares for each Pixar share. Disney closed yesterday at $25.99, up 47 cents. Pixar closed Tuesday at $57.57, down 70 cents. The $7.4 billion Disney is paying includes about $1 billion of Pixar cash.
The price was somewhat higher than Wall Street had expected. "It's a full price," said Peter Goldman, portfolio manager at Chicago Asset Management, which owns Disney shares.
Goldman and others questioned whether Disney was buying at a time when computer animation might be peaking. But he added, "I'm more enthusiastic about Disney with Pixar than I was without it."
Others wondered how Pixar's independent culture would fit with Disney's buttoned-up approach. Pixar will remain at its Emeryville, Calif.-based headquarters.
"Disney is bureaucratic. People roller-blade down the halls of Pixar," said Marla Backer, an analyst at Research Associates. "I don't think Pixar needs Disney looking over its shoulders."