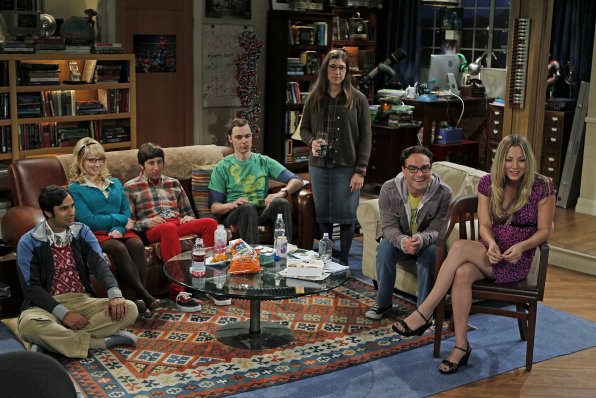 Got To LOVE THE GEEKS!  Excited about not one but 2 new season 5 shows tonight!
Whats on tap so far this season:

5.01 – The Skank Reflex Analysis
Penny worries that she's screwed things up permanently with her friends, while Sheldon takes command of the paintball team.
5.02 – The Infestation Hypothesis

A fight between Sheldon and Penny leaves Amy caught in the middle, while Leonard tries to spice up his long-distance relationship with Priya. 
5.03 – The Pulled Groin Extrapolation
Leonard and Amy get to know each other better, while Howard and Bernadette spend the weekend with Mrs. Wolowitz.

5.04 – The Wiggly Finger Catalyst

Raj finally meets a girl he can communicate with.
5.05 – THE RUSSIAN ROCKET REACTION

Sheldon and Leonard get invited to a party at Wil Wheaton's house, and Howard gets an out-of-this-world opportunity.
Got to love the cast descriptions!
No. in
series
No. in
season
Title
Directed by
Written by
Original air date
Prod.
code
U.S. viewers
(millions)
88
1
"The Skank Reflex Analysis"[96]
Mark Cendrowski
Story: Eric Kaplan, Maria Ferrari & Anthony Del Broccolo
Teleplay: Chuck Lorre, Bill Prady & Steven Molaro
September 22, 2011
3X6851
89
2
"The Infestation Hypothesis"[97]
Mark Cendrowski
Story: Bill Prady, Steven Molaro & Maria Ferrari
Teleplay: Chuck Lorre, Jim Reynolds & Steve Holland
September 22, 2011
3X6852
90
3
"The Pulled Groin Extrapolation"[98]
Mark Cendrowski
Story: Bill Prady, Steven Molaro & Dave Goetsch
Teleplay: Chuck Lorre, Eric Kaplan & Jim Reynolds
September 29, 2011
91
4
"The Wiggly Finger Catalyst"[99]
Mark Cendrowski
Story: Chuck Lorre, David Goetsch and Anthony Del Broccolo
Teleplay: Bill Prady, Steven Molaro and Steve Holland
October 6, 2011
92
5
"The Russian Rocket Reaction"[100]
Mark Cendrowski
Story: Bill Prady, Steven Molaro & Jim Reynolds
Teleplay: Chuck Lorre, Eric Kaplan & Maria Ferrari
October 13, 2011